Due to COVID-19, there will be no operation of Children's Ministry (including nursery) for the time being.  Please refer to our webpage, Children on Sundays for more information.
My son, do not forget my teaching, but let your heart keep my commandments, for length of days and years of life and peace they will add to you. (Proverbs 3:1-2)
Christ Church has a strong community where kids can have fun and learn, and where there are ways for a whole family to serve and grow. Our desire is to support families in the hard task of bringing up children in "the nurture and training of the Lord".
For children, we have weekly Sunday School classes. During the school year we also have several programs during the week. For families, we have many opportunities to learn and grow, including parenting workshops, mom's bible studies, and other family events.
Weekly Programs
Bounce-Around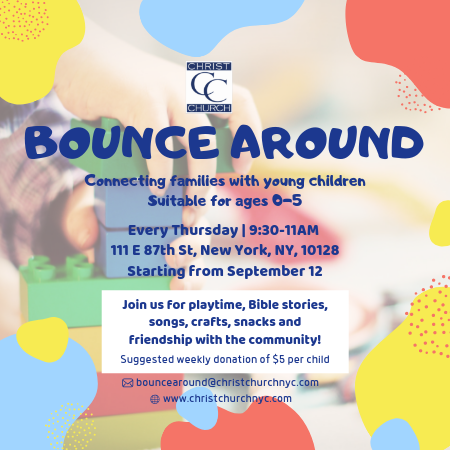 Our Bounce Around program offers an opportunity for families to connect on a weekly basis on Thursday from 9:30-11AM at 111 E 87th St. It also provides a support community for parents and children from 0-5 years old.
Because we ask that children be accompanied by a family member (rather than a nanny or babysitter), Bounce Around is different from a drop-off daycare program. We want our children to have a meaningful, formative experience and we believe that one of the best ways to do that is for children to be brought up in the presence of other community members.
Each week, kids enjoy playtime with other toddlers and preschoolers, as well as a Bible story. Snacks are also provided. We suggest a weekly donation of $5 to cover supplies.
During the summer Bounce Around will meet outside, weather permitting. Please sign up for email notifications and weekly location updates. If you have any further inquiry or would like to register, please email bouncearound@christchurchnyc.com
Sundays
On Sundays, there are programs for children from babies through to elementary school. For full details of our Sunday School program, please visit our Children on Sundays page.